How to Choose the Right Construction Trailer for Your Work Site
When it comes to selecting the right temporary construction trailer for your work site, you want to start by systematically surveying your long and short-term needs. With a range of different sizes and customizable options available, consider factors like how many employees you have, how much space you need to work, and of course, any additional features you'll require.

Following are some tips that will help you find the right trailer for your budget and your job.
Think About Your Employees
You can't expect your employees to share a tiny space, so your first consideration should be how many employees you have, what their jobs are, and what amenities they'll need on a short and long-term basis. Things like restrooms are a federal requirement on job sites, so you may want to consider how you can combine these facilities into your construction trailer.

Aside from that, a good way to calculate how much working space your employees are going to need is to follow the general rule of 100-150 square feet for each person. Keep in mind that if you have a lot of employees who need to spend time in the office, you may want to provide space for a small kitchen or private conference and common areas.

You do have options when it comes to outfitting your construction trailer with features that your employees will need. For example, using window A/C units will be cheaper than installing an expensive HVAC system, so a factor that you'll need to take into consideration throughout your search is the length of time you'll need to use the trailer.
Estimate Your Space Needs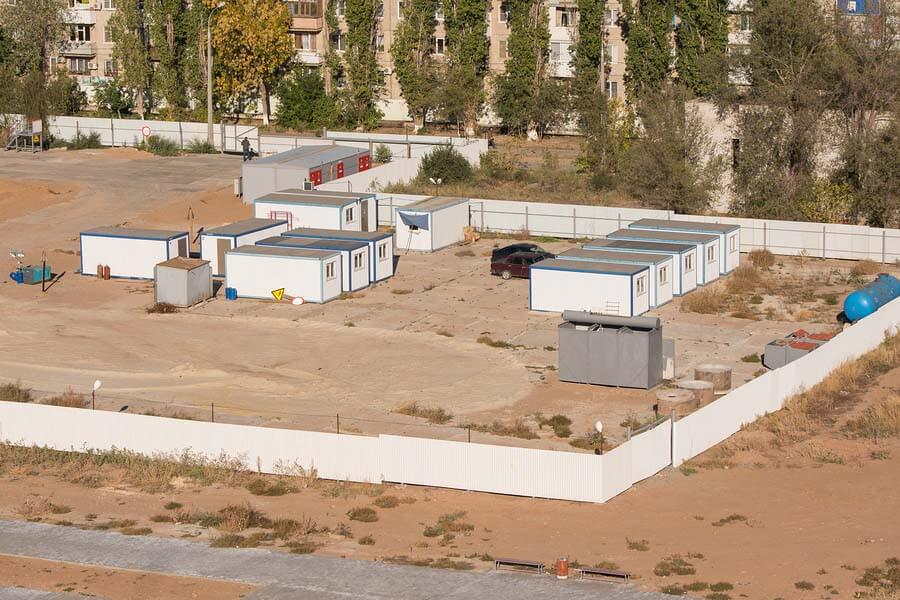 How big your site is, the location of your construction trailer, and of course, the square footage you need will narrow down your options, but other factors to consider include how much space you'll need for storage. Documents and other materials can quickly clutter a smaller office space, so decide early on if you'll need additional storage. The longer term the job, the more likely you'll need it.

Construction trailers can be as small as an 8'x16' building - suitable for one person - up to 24'x64'. Typically, trailers are considered to be either single-wide or multi-wide; as per their names, the latter consists of multiple single-wides. Single-wide trailers are great for when you need to get started fast, as multi-wides will require more complex installation and outfitting. Again, job length will be a factor in how much time you'll be able to spend installing temporary trailers.
Consider Additional Features
Once you have decided on your basic needs, you'll want to choose any additional features that will keep your trailer up to code or personalize it even further. You'll need to have things like stairs to your doors to comply with government regulations, but you may also want to add in amenities like a refrigerator for employees to be able to store food and drink. This should be factored into your overall space requirements. Additionally, you'll want to make sure that you get the right electrical system installed to power appliances and required equipment.
Construction trailers can be customized as much or as little as you want, according to your needs and budget. If you're ready to find the right construction trailer for your next job, contact us today to request a quote.